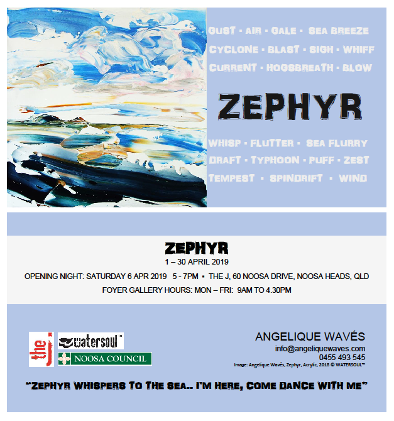 ZEPHYR
THE J NOOSA

1 April to 30 May 2019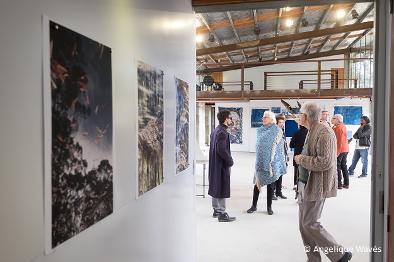 RESIDENCY EXHIBITION
BLUE MOUNTAINS

TRILOGY

GATAKERS ARTSPACE
1 - 27 Feb 2017

Co-exhibitors : Janey Richards & Beatrice Prost
Guest Speaker : Councilor David Lewis

This exhibition is a collaboration of earth forms, seascapes and landscapes and sharing

a passion for the natural world and environment.
With an abundance of enthusiasm for our planet Earth these Sunshine Coast artists
complement each other with their chosen landscapes

Opening night 3 Feb 2017 6pm, 311 Kent Street Maryborough, Fraser Coast

OZONE
POMONA ART GALLERY

Solo Exhibition

7 Jan - 8 Feb 2017

Guest Speaker : Heather Jones

This exhibition is a selection of works from my latest watersoul collection, being bright abstractions of the

coastal landscape. Presented in this unique gallery space in the thriving art hub in Pomona,

these artworks are impressions of our ocean environment with a focus on energy and movement.
Opening Jan 7 11am, 10 Station St Pomona
Gallery hours are 10am - 4pm Mon to Fri and 10am - 2pm Sat to Sun

AZURE
BUTTER FACTORY ARTS CENTER

Solo Exhibition
2 Dec - 11 Jan 2017
Guest Speaker : Val Ross

This mostly monochromatic exhibition in blue is about sharing my obsession

for our ocean and capturing moments of the sea in all its glory. The artwork comprises of deep sea, curling breaks
and represents my observations of eroding sand lines, salt-laced water marks and the many shades of blue.
This is my take on what I see every day on my shoreline wanderings.
Opening 3 Dec 2016 1pm, 10 Maple St, Cooroy
SHOREBREAK
HERVEY BAY REGIONAL GALLERY

Solo Exhibition
6 May - 7 Jun 2016
Guest Speaker : Councillor George Seymour

Every day for one year I took photos of my local coastline. Some days the images I focused on
were of reflections on surfaces, interesting textures/ colours or something as simple as cloud watching.

This exhibition is a culmination of sifting through over ten thousand 'happy snaps' for

selection to reinterpret into paintings.
Shorebreak, as a result has become a reference to the
daily drama of the sea, its restless, moody and boundless energy.

The camera becoming a filter

for my thoughts, allowing the lens to show me things differently and identify

clearly what my subconscious was interested in.

166 Old Maryborough Rd, Hervey Bay
ZEST

BUTTER FACTORY ARTS CENTRE
28 Jan - 7 Mar 2015

Co-exhibitor : Sam Vatovey
Guest Speaker : Kym Barrett

This exhibition is an expression by two individual artistic perspectives inspired by the landscape

of Noosa. The idea is to convey a sense of place and

reflect an appreciation for living in a unique biosphere. The binding of landscapes and seascapes

with an artistic vision, celebrates and highlights awareness of the

uniqueness of the coast and our environment.
Opening 30 Jan 2015 6pm, 10 Maple St, Cooroy

SEAS THE DAY

HARBOURSIDE GALLERY

Solo Exhibition
1 - 31 March 2014

This exhibition is my ode to the ocean. The focus of this exhibition is solely based on the ocean and it's many facets.

A striking collection of photography, abstract and impressionist paintings. From turbulent, stormy days
to the tranquillity of the pink glow of a sunset, Sea's the Day is my interpretation and

reflection on our unique natural surroundings.

Step into this exhibition and renew your appreciation for the sea.
Opening 1 Mar 4-6pm, Noosa Marina

COAST MEETS RAINFOREST
TREEFROG GALLERY
Solo Exhibition
4 Mar - 3 Apr 2013

Guest Speaker : Heather Gall

Opening 9 March 2013 2pm


Please note that all artwork is subject to copyright. All rights reserved